summer
prep
opportunities
NEW!
Tell Me More: Coffee with Chris Yip is the official podcast of U of T Engineering.
Message From the Registrar
As the first Fall Term of your university studies approaches, we hope you, your family and friends are healthy and doing well. I'd like to take this opportunity to say congratulations on becoming a part of the U of T Engineering community!
In your first year at U of T Engineering, you will find yourself presented with many intellectual challenges and opportunities for self-discovery. Entering university comes with new-found independence and new responsibilities – and the Office of the Registrar is here to help you navigate the way.
As your partners in success, we are here to support you throughout your academic journey. We take pride in the many ways we serve our students, including:
Providing guidance on academic rules and regulations
Maintaining undergraduate academic records
Supporting the petitions and appeals processes
Issuing registration letters
Managing post-exam services like exam viewing, final mark re-checks and final exam re-grades
Offering advice on student loans, financial aid and scholarships
Answering questions about the Faculty and University and referring you to useful resources
Keeping you up to date via the Current Engineering Undergraduate website
Delivering a monthly e-newsletter to all engineering undergraduates with important information on scholarship opportunities, awards, important deadlines, student life and much more.
To help you transition to university, we developed many dedicated resources, including this online Guide to First Year. Here, you'll find information to orient you to the Faculty and help you get started over the coming months. We will continue to communicate with you over the summer via email as plans for the academic year evolve. These updates will also be reflected through U of T Engineering's social media channels: @uoftengineering, @uofteng_registr, and @uoft_eng_fyo. Stay connected to ensure you're beginning your studies with the most up-to-date information.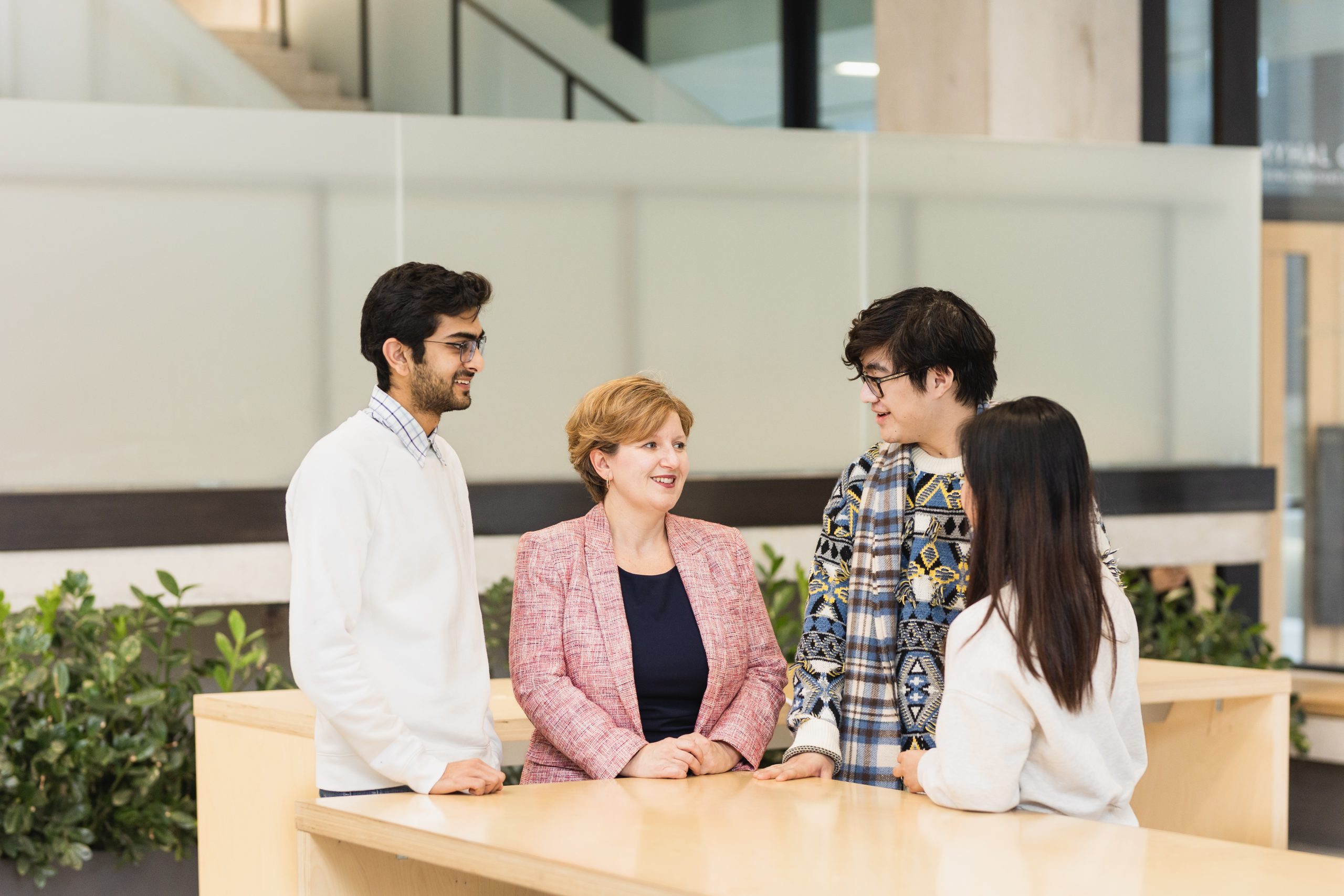 Beyond your first year, you'll have access to many unique learning opportunities and pathways to look forward to in the coming years, including:
Optional minors and certificates
Professional Experience Year Co-op Program (PEY Co-op)
The Entrepreneurship Hatchery
Leadership programming through the Troost Institute for Leadership Education in Engineering
Summer research positions
Study abroad
I look forward to seeing the ways you will contribute to this environment of innovation and curiosity. Everyone in the Office of the Registrar looks forward to supporting you and the Class of 2T7 on your academic journey. If you have questions or concerns in the meantime, please email us: registrar@engineering.utoronto.ca.
Helen Bright
FACULTY REGISTRAR
Meet Your First-Year Success Team
Our team of first-year specialists are here to help you successfully transition from high school to U of T Engineering. We will provide you with the resources you need to make informed decisions, as the choices you make in your first year will shape the rest of your academic career.
The team provides support through:
Academic advising
Referrals to resources including learning strategists, wellness counsellors, accessibility advisors and other experts as needed
Summer foundation programming
Coordination of first-year curriculum
Weekly e-newsletter
The facilitation of Guided Engineering Academic Review Sessions (GEARS) led by upper-year academic mentors
Exam Jam events designed to help you prepare and destress before final exams
SUPPORT FOR STUDENTS IN THE CORE PROGRAMS & TRACKONE (UNDECLARED ENGINEERING)
First Year Office
Galbraith Building
35 St. George Street, Room 170
Toronto, ON M5S 1A4 Canada
416-978-4625 | firstyear@engineering.utoronto.ca
www.uofteng.ca/FYO
SUPPORT FOR ENGINEERING SCIENCE STUDENTS
Engineering Science Office
Bahen Centre for Information Technology
40 St. George Street, Room 2110
Toronto, ON M5S 2E4 Canada
416-978-2903 | askengsci@utoronto.ca
www.engsci.utoronto.ca
REGULAR EMAIL UPDATES
Beginning in mid-June, the First Year Office will send a weekly e-newsletter called the First Year News Feed to all Core 8 and TrackOne students to the email address you have listed in ACORN. It will include important updates, information, deadlines and resources. Archives of past issues are available online at uofteng.ca/fynewsfeed. Engineering Science students will receive regular emails from their Academic Advisor and can visit the EngSci 2T7 Orientation Blog at orientation.engsci.utoronto.ca.
Shakeeb Ahmed
First Year Advisor,
Access & Inclusion
Jennifer Fabro
Associate Director,
First Year Advising and Communications
Brianna MacDonald
First Year Advisor,
Intercultural Learning & Experience
Pierina Filippone
Assistant Registrar,
Scholarships & Financial Aid
Leslie Grife
Director,
First Year Office
Julie Kang
First Year Advisor,
Student Success & Transition
Cherie Mak
Mental Health Programs Officer
Stephen Johns
Academic Advisor,
Years 1 & 2 (Domestic), Engineering Science
Irma Berardi
Academic Advisor,
Years 1 & 2 (International), Engineering Science
Professor Dawn Kilkenny
Vice-Dean,
First Year
Helen Bright
Faculty Registrar
Professor Chirag Variawa
Director,
First Year Curriculum